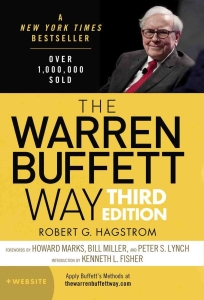 By: Robert G. Hagstrom
Notes:
12 Investments in forty years made all the difference.
Warren doesn't look at market conditions when buying companies.

Therefore, no technical analysis.

Warren only invests in stocks that will increase in earnings 5 to 10 years in the future.
He continuously changed his investment strategy over time, but he keeps the core valuation philosophy.
He says to buy stocks for less than two-thirds of their net assets value.

I might have an advantage, because I know how to value intangible assets.

Best advice to young people is learn about every single public company in the United States. Like WW does.
When adding a company to your port, only buy things that are better than what you already have.

No mention of when to get rid of companies.

Keep portfolio turnover between zero and 20%. It correlates with superior returns for every type of asset manager.

Outperformed tend to have low turnovers and concentrated holdings.

Buffet doesn't sell when the mrkt is high. He looks at the mrkts mood and sells when ppl are euphoric.