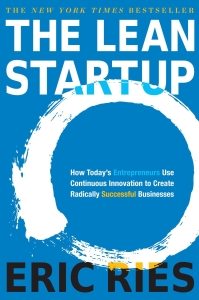 Subtitle: How Today's Entrepreneurs Use Continuous Innovation to Create Radically Successful Businesses
By: Eric Ries
Startups need management to reduce problems. Requires discipline.
Goal of a startup is to figure out what customers want.
Most things like driving require so many coordinated movements that it's impossible to plan and predict everything. Plan, test, and build are the elements you need to figure out what customers want.
If you do a. Lit of test, then you create an entrepreneurial environment.

If you do one big tests, then that creates politician who get their ideas done.
Hound innovators build and test their ideas like a factory.

Doesn't matter if you build something on time and under budget if no one buys it. You must hit the market dead on.
Delays are worse than launching a bad product.
When you launch, you probably would get many customers, so don't worry.
Which of our efforts are value creating and which are wastes?
Experiments are better than asking people about their feelings, because ppl have a hard time explaining their feelings.
Minimum viable product is one that enables a full turn of the build, measure, learn loop.
Early adopters expect only 80% solution.

They use their imagination to fill in what they think the product will be.

Any additional work beyond what early adopters expect will be a waste.
Even a video could be a minimum viable product.
Aim to get a beta signup group before manufacturing the product.
Person contact MVP is good to try first, bc it allows systematic testing with real customers.

Only invest in automation, when doing things by hand becomes too expensive.
Wizard of oz approach means putting in human interaction where people believe a computer is doing the action.

It's all most impossible for someone to steal your idea. It's hard enough to get someone to actually buy your product.

If you can't protect your product, you'll never make it anyway.
Head starts don't matter.

A reputation is not a big risk.
The worse possible situation is fumbling alone in the land of the living dead.
Try a smoke test to see what will happen when the customer goes to purchase a model.
To learn quickly, get 100 clicks a day using google ad words to narrow down your best marketing terms and your best website layout.
Instead of asking for specific features, describe the customer experience so the engineers know how to build the right features.
Make sure to do split testing, also called A B testing. Even for manufactured products.
Lazy registration is where you allow a person to log online and have the service before having them register.
Yon must pivot so you don't land in the land of the living dead, where you have some money coming in, but the business is not meeting expectations.

Not pivoting is a drain on your team.
Organize pivot meetings at regular intervals. Decide if you are meeting your targets.

Small batches of work are more efficient than setting up big processes to do the work more efficiently.

With small batches, you find out the problems faster.
In product design, go with small batches to make sure you can make changes more efficiently.

Use a pull method to manufacture things. This limits inventory, because only after a part is used in a product, then does the part single to somewhere else that it needs to be replaced.
Startup should only focus on one engine of sales / revenue at one time.
If you are missing quality problems now, then it will stop you in the long term.
It's tough to create robust products, because it you create an upgrade you can't test whether it was that one upgrade or one of the other many upgrades you tried.
Behind every technical problem is a human problem. To get to the reason, you have to ask five whys. After every answer, ask why again to figure out what the real problem was.

The real cause hides behind other problems.

Be tolerent of all mistakes the first time. Never let a mistake happen twice.
To motivate people to take risks, you have to have very clear objectives to go for.
Entrepreneurship should be a job title within a firm.
To achieve innovation within an industry, you have to examine the system to make sure it is allowing people to fit the roles that the system can utilize.