Subtitle: Strategies For Overcoming Distraction, Regaining Focus, and Working Smarter All Day Long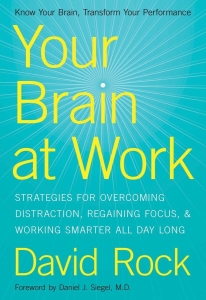 By: David Rock
Notes:
Mental tasks hurt the ability do physical activity and vica-versa over the short-term.

But exercise increases brain activity over the long-term.

Glucose can restore brain activity. That's why when ppl are tired or hungry, they can't think.
Do the most important work in the morning when I'm fresh.

Or after a good rest of physical exercise.

Create visuals for complex ideas.
Get things out of your head. Saves energy. Physical objects work also.
Break work up into segments that use different bits of the brain.

Plan to do deep thinking at the same time.

Delegate well: Best to get rid of remedial tasks.
Brain's memory works like ram. Turn off all non-essential tasks and focus on one.
When pitching things, use what people already know.  Simplest is best.

When pitching the movie alien, they said it was Jaws in space.

Brain organizes things in to clunks of information. Each chuck is the same of the words that are easy to say. Seventy two, versus, seven thousand, two hundred…
Write a time limit to stay focused on the project at hand.
New concepts are less intensive than old ones.
Prioritize intensive tasks before other tasks.
Hold meetings earlier in the day versus when ppl are tired.
Break large amounts of information down into chunks.
Doing two intensive tasks at once took twice as long, thus no time savings.

If accuracy is important, don't divide your attention.

Constant emailing and texting reduces IQ points by 10 points, because ppl are on constant alert.

It's like always watching out for a tiger in the wild.
The more email's, etc. that you respond to, the more hat will get sent.
Eliminate constant interruptions and you'll focus better.

For long term memory to form, must focus on that activity.

Once an activity is embedded (like driving), one can learn subtle other things.

Bottleneck is a series of unfinished connections. Must make a list of thoughts and find the first necessary one to address.
Thinking of the right order to make decisions saves time and energy to focus on other tasks.
Mix up your attention from full attention to split attention.
If you have to multi-task, embed repetitive tasks with deep-thinking tasks.
Office distractions eat up 2.1 hours a day.
Bigger computer screen is one of the best ways to increase productivity.
Simple technique is to switch off all electronic devices when focused on one thing.
Stopping internal distractions is energy intensive and requires will-power to stay focused.

To train yourself, stop letting distractions take over your senses early in the process.

Stress means to emphasize:

Positive stress helps focus attention.
A moderate amount of stress leads to good performance.
Too much stress reduces performance.
To get more adrenaline, imagine a fearful situation. Boxer goes into a ring and dies.

Key is to rouse the brain, but not obsess about the fear.

Positive feelings (imaging rewards, etc.) produces more beneficial stimulus than fearful or negative feelings about something.

When you need to produce good work, think about the positive outcomes.

Men wait till the last min so they have the chemicals motivate themselves.
"Flow" is one of the four keys to happiness.
An insight is one that connects different parts of the brain.

Might have to go unconscious in order to have an insight.

To have an insightful idea, must stop thinking in the current path.

To get around an impasses, think of trying to change the direction of traffic on a bridge. Stop it first, but then do again.
Anxiety decreases insight. Happiness increases insight.

That's why google mixes fun and play with work.

To get past an impasses, do something totally different and then go back to it.

Match ppl with lots of detail with someone who doesn't have much detail. Will lead to better ideas.

Insights happen when people can change their brain.
Steps to increase insight:

Be aware of the problem, but don't get crazy about it.
Simplify idea: fewer words are better. Versus getting too detailed.
Relax with the idea. (get everyone off the stage). Focus on the idea.

Helpful to take a deep breadth when distracted
Practice activating your fun attention on everything that's directly in front of you. Practice makes perfect.
Humans walk towards positive situations, but run away from negative ones…. Naturally.
Arousal of the limbic causes mistakes. There are ways to silence this arousal to focus better.

Suppression of emotions makes others feel uncomfortable and hurts the subject person.
Speak about an emotion in one or two words and it'll reduce the emotion. Have a dialog about the emotion and it'll get worse. Recognize the emotion and stay calm.
Women tend to be better at labeling their emotions.

A sense of autonomy is helpful to dealing with stress.
Uncontrollable stressor cause the most destruction.

Low level employees die sooner than executives because they don't have choice.
Work / life balance is a main reason to start one's own business even though they work longer.
Terrible teen behavior is unique to western society. It is assumed that they have fewer choices and they causes their problems. Give teens more say and they'll behave.
Key to reappraisal is to find the positive in every situation.
Take another person's perspective can help reappraise the situation.
Without any arousal, other thoughts wonder in to your brain
Ppl are better off when they reappraise. Ppl who see life through rosy glasses are happier and do better work.
Optimist have an embedded positive reappraisal technique.
Humor helps to make a crowd reappraise quickly and easily.

A goal automatically orients the person in the right way.
Unmet expectations can lead to negative effects on people. Managing expectations is key.
Exceeded expectations stimulate a great response of dopamine.
Brain is best at connecting in person (mirror nuance).
The one thing that makes people happy is the quality and quantity of social connections.
Learning increases when you speak to someone about an idea, because it creates more connections in the brain.
Think someone is a foe makes you less smart when dealing with them.
When in a group of ppl that don't know each other, make sure to spend a few minutes breaking the ice.
Companies that encourage water cooler talks leads to greater productivity.
Employees want fairness. More productive.

Give employees time to volunteer helps to increase fairness.

Status is a big driver of behavior. Ppl don't like to be excluded.

High status people tend to live longer and achieve bigger rewards, smarter…
"The Status Syndrome"
Saying good job often to kids generates great responses.
Key to status is to find a niche where you feel you are superior.
When people fit for status, they fight over status versus work together.
Pointing out what people do well helps to increase their status especially when done publicly.
Successful people play against themselves by challenging themselves. Give status boost.
Timeouts work on kids, because their lose status.
Great leaders are often humble leaders.

Let others take charge, speak about the future, keep their promises,
Bad leaders micromanage, unclear goals.

Better to focus on the solution than to focus on the problem. Can't do both.
When you ask ppl to focus on their own ideas, this initiates their thinking.

Making it subtle is best.
Ppl are easily threatened by feedback, so it's best to ask them questions to get themself to produce the feedback.

Best to write and leave some time between when you edit the paper.
Best way to help someone see something new is to help quite their mind so they can have an insight.

Reward ppl for activating their direction.

Learning a language is easier in a foreign country, because you have to eliminate your current language to rewrite the brain.
Use "would you be willing to do this?" instead of do this.
A good story is important for memory and getting a point through.
Setting the right goal is fantastic.
Writing a task down increases the intensity of the brain which helps.
The brain is social, so collaboration is key.

Ideas come alive in conversation.

Leaders how are overly intelligent tend not discount their weaknesses and those in others.