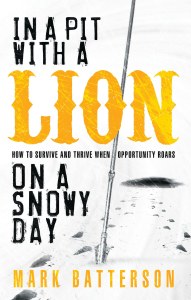 Subtitle: How to survive and thrive when opportunity roars
By: Mark Batterson
Notes:
Taking no risk is the biggest risk of all.
God is more concerned about sins of omission.

Those who run away from sin are half Christians.

Pray a ridiculous prayer.
Birth defects, poverty, and negative circumstances are often the adversity that produces great things.

Adversities create their ministries.

Your ability to helps others heal is limited by my experience.

Very rarely does a bone break in the same place twice.

That person intended harm, but God intended for me to help others.
Easy answers produce shallow convictions.
People tend to regret action regrets over the short term and inaction regrets over the long term.

The sins of omission are the ones that linger.
AKA, jacket in Italy.

In the long run, opportunity costs are far more damaging than actual costs.
You are never going to be ready. Even Jesus hesitated before his first Miracle.