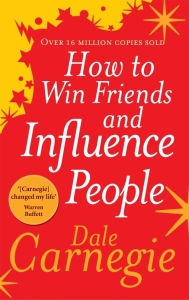 By: Dale Carnegie
Notes:
Remember everyone's name
Find what other people want.
Never criticize anyone.

Find the positive and work that angle.
If attempting to criticize, start with praise first.

Point out one's own faults before tell others about theirs.

Emerson: every man i meet is my superior in some way
Make sure to listen intently to people
Find something to admire
Show genuine appreciation
Use the Socratic method.

Getting people to say yes is the fastest way to convince them to your side of the story.

A river is such, because it lies below thousand of streams.

Put others higher than you and in front of you.

Be specific with praise or else it will be felt as dishonest.
Principles:
Begin with praise and honest appreciation
Point out peoples mistakes indirectly
Talk about your own mistakes before criticizing others.
Ask questions verus orders
Let the other person save face
Praise every improvement
Give other person a fine reputation to live up to
Make fault easy to correct
Make other person happy about doing the thing you suggest