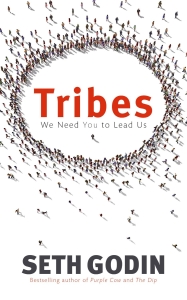 Subtitle: We Need You to Lead Us
By: Seth Godin
Notes:
Takes only two things to turn a group into a tribe: Share interest and way to communicate.
A crowd is a tribe without a leader.
What's the worst that could happen if you do something adventurous?
Aim to create something that critics will criticize. That way you know you are doing something right.
Keep your tribe tight as possible:

Meetup and craigslist.
Blog is nearly effortless tool to create your tribe.

If you aren't uncomfortable as a leader, then you aren't doing your job.
People follow a leader when lead where they already want to be led.
People don't like to switch. To switch sides is to admit that we made a mistake.
Small price for being too early, but a huge penalty for being too late.
Really listening, then deciding and moving on is a great way to get people to support you.
Einstein said imagination is more important than knowledge.