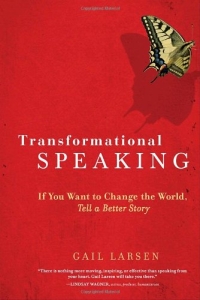 Subtitle: If You Want to Change the World. Tell a Better Story
By: Gail Larsen
Notes:
You must have passion in order to be a good speaker.
Life stories are the most effective means of telling a story.
U don't need a larger than life story to be effective.
Stories must have emotion in order to connect with audience
Speaches must change in tone or else it's boring.
Sparking insight is a key to success.
Must find your core message and revolve everything around it.

You have one minute to speak. What will you say?
Important Tips:
Vary your tempo if very important.

Sudden silences.

Pausing allows your audience to consolidate.

Change pace.
End your sentences.
Slow down.