By: Daniel Kahneman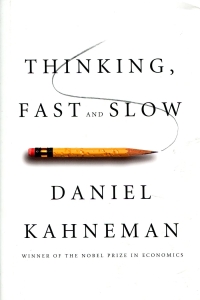 Notes:
Switching from one task to the next is effortful.
Acting calm and kind irregardless of how one feels is likely to make one that way.
The idea of money primes individualism.
To write a persuasive argument…

The first statement is expected to be true. Any other information has less value.
Put the writing on as good of paper as possible.
Simplicity in language is better. The more complicated, the worse someone deems their intelligence.
Try to make it memorable. Rhyming helps.
Quote a source? Use names that are recognizable and easy to pronounce.

To help diversify opinions, have everyone write down their opinions first and then discuss.

This helps to make sure the first person doesn't influence the rest of the people.

Confidence in the story depends on the ability of the person to explain the story.
Strong, square chin with a turned down mouth my indicate danger.

With a slight, confident smile exudes confidence.

Group workers have a bias that says they do more than their fair share and don't get credit for it.