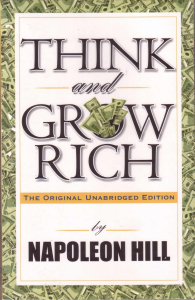 By: Napoleon Hill
Notes:
Gained insight by interviewing people.
Book was based on Andrew Carnegie's advice.
Get rich steps:

Think of the exact amount of money I desire.
Determine what u intend to give for that money.
Think of day you intend to have that money.
Creat definite plan to carry out desire.
Write it out. Make it clearer ad the statement allowed twice a day.
Chapter 14 has the statement example.
Surround you with clippings, etc that remind you of that objection.

Specialized knowledge is the only thing that can make you rich.

General knowledge does not. Ni professors have general knowledge.
Henry ford was untrained, but had the right knowledge.
Successful people never stop acquiring specialized knowledge.
Night schools, seminars, etc are great sources of specialized knowledge.

Being asked to pay for a course keeps a person accountable.

Creativity developed in one area helps other areas.

Lucky people get lucky breaks, because they behave and act lucky, which gives them an increase in lucky breaks. When they seem lucky,  ppl help them more.
Power is organized knowledge.
Andrew Carnegie did not have great mastery of the steel industry. He simply was able to group together the wisdom of a group of smart people.
Reach the best decisions quickly, but slowly change them once reached.
The mark of wisdom is silence and modesty.

Then no one will be able to use your ideas against you.
By not talking, you can learn something.

Sexually comfortable people are the best sales people, bc magnetism is a main factor.
Geniuses are different because they use two brains:

Reasoning and creative brains.
That's why artificial mind stimulants work, but they blow themselves up.

Affirmations:

Short and clear about a desired goal.
Must be positive.
Can't use the word "try".

Practice visualizing something moves your subconscience to actually meet that goal even if you don't go though the physical action.
Autosuggestion – Success formula

Concentrate for 30 mins each day on person you intend to become.
 10 mins a day on developing self confidence.
Engage in things that benefit all people. Keep positive attitude.

What's my overriding business purpose in life?