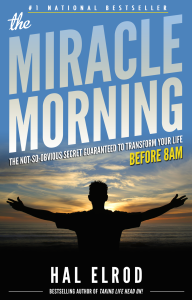 By: Hal Elrod
Notes:
Biggest adventure a person can live is the life of their dreams
Level 10 success can only be achieved with a level 10 of personal development

Mental, emotional, and physical

Need to take one hour out of each morning to do personal development
Make a list of all the activities that help personal development and try them each morning.

Hal did reading, meditation, affirmations, visualization, journaling, exercise,

Find my self purpose so I can focus on achieving that ambition.

Purpose can be just to smile more. Can have more than one purpose

Discipline create lifestyle
Need to find an inspiring circle of friends. Average, happiness comes from that circle
Lack of urgency is the number one killer of potential
Many famous achievers woke up early and enthusiastic about the day
How much sleep? Depends on how much you think you need.

Self fulfilling to think you need more sleep is how much you'll get.

First thought in the morning is the last thing you thought about before bed.

Therefore change your thoughts. Decide and mindfully create an enthusiastic situation in the morning
Try motivational alarm clock messages

Drink something in the morning to hydrate the bobby and increase energy. Get moving quickly.
Schedule 3 to 5 hour blocks in my schedule for a singular focus on something
If we want a better life, then reexam the food we eat. If we need energy, then eat well. What to drink: super smoothie in the morning. Look at TTMbook.com for the super food smoothie with all the things to get my body going each morning.
Productivity: work on the hard task first
Change any habit in 30 days
Timing: 20 mins of exercising, 20 for reading, and five for other other activity.
Feedback: ask for feedback from people with diverse backgrounds. Each will give you a different look. Subject line. This means a lot… I would like to get your option… Text: thank you so much for reading this email. I sincerely appreciate you investing your time to read this. This only goes out to a select number of people. For me to grow as a person, I need to get an accurate picture of the person I can be, I need your feedback. Take two mins to email me my top two areas of improvement. If you ha e time, two areas of strengths. The most honest the better. I want to improve and this is the quickest way for me do so. Last five mins of the book.
Life saving methods – morning routine
Silence

Silence: you can learn more in an hour of silence than you can learn in a year. Start every morning with a period of silence. Meditation is about focusing the mind for a period of time. More effective than meditation. Promotes sleep. Only takes a few mins a day

Affirmations:

Tell yourself who you want to be, how you will achieve it and what you want to accomplish.

Step 1: what do your really want
Step 2: why you really want it
Step 3: whom you are committed to being to create it
Step 4: what actions you are committed to doing to get there. For example, commit to making five sales calls a day. Start small and ramp up.
Step 5: add inspiration quotes and philosophies
Read them daily.
Ordinary people visualize the impossible and it becomes possible

Visualizations: Visualization aligns your thoughts with actions to make sure a person is on the right track

Step 1: Get ready. Can use music
Step 2: Visualize what you really want
Step 3: Visualize myself living in alignment with what I want to be.

Exercise:

Just a few mins every morning boosts so many things
Yoga is his favorite. Stretching with strength and mediation

Reading:

Fastest way to achieve what you want is by modeling after people that have already done it
Read or study for at least 15 mins every morning

Writing:

Document lessons learned, goals, achievements, dreams, plans actions, etc.
Read over the entries and see where you could have improved. Constant gap focus drives people to achieve, but make sure it comes from a good place and dot focus negatively on my
Step 1: Traditional of physical. Miracle morning app as the journal option
Step 2: Get a journal
Step 3: Decide what to right.