Subtitle: The Revolutionary Book That Will Change the Way You Do Business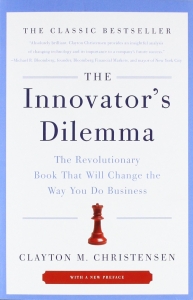 By: Clayton M. Christensen
Notes:
Good Managment was the sole reason that good companies lost their innovative edge.
Every situation is different, so you need to apply them differently.
Markets that don't exist, can't be analyzed.
Things that help disrupt industries:
Good mgmt planned to fail early.
They utilized some resources of the main organization to develop their own.
The best way to go after new markets is to launch a new brand in an emerging product.
This helps not to pick a fight with current org structure that services a different market.
A good idea is to geographically relocate the firm and allow them to do whatever they need to do to win.
Don't use the old cost structure and model in new industry.
The people who build one type of product have much harder time converting to new markets by using the same old culture and people.
Let the old and new businesses compete against each other in order to drive innovation.
It's important to seed disruptive ideas in small companies.
They will have more incentive to developer company.
Must be profitable on a small scale.
Can create distrust ice technologies if listen to customers, because there is no evidence to support the idea.
Must make a guess I order to succeed
To create innovation, a company is best to acquire another company and plant the seed there.
The culture will embrace it better.
Second movers are far more successful.
Successful companies change direction often.