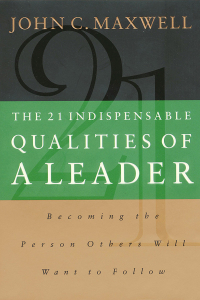 Subtitle: Becoming the Person Others Will Want to Follow
By: John C. Maxwell
Notes:
Seek therapy if character is an issue.
Stay clear of the grey areas.
First impression seals the deal.
Charisma ability to draw people to you.

Make others feel better than they normally do.
Ex: Feel he was the smartest man alive. Vs. He mad me feel like the smartest person alive.
Number one: Love life!
Think of others and their concerns before themselves.
Focus on their interest.
Pride, insecurity, moodiness, perfectionism, sinicism is a roadblock.
100 top people had one common denominator: could only see the good in people.

Commitment

Only way to measure commitment is with action.
Know what's worth dying for? See if actions follows ambition.
Make something public, then finish it.

Communicator

Take something complicated and make it simple.
Always simplify your message.
Figure out what the audience wants.

Competence

Build it and they will come.
Show that you can be successful.
Succeed at everything you touch.
Always keep improving!

Do this by asking "WHY" in every situation.

Always show up.
Inspire others.
Go the extra mile.

Courage

Doing what you are afraid to do.
Moto: Fight like a wild cat.
Must take risks. Must take a stand.
Courage deal with principle.
Face fear by inviting it. Skydive if afraid of other fears. Then they aren't as bad.
Must believe we are destined for something and then pursue it.

Discernment (intuition)

Smart leaders only believe half of what they hear. Discerning leaders know which half.
Never discount a gut feeling, but never rely on it.
Find other respected leaders and read their biographies. Understanding how they made decisions will help you.

Focus

Do what you do to the furthers degree.
Focus on your strengths only.
Focus time and energy.
Focus 70% on strengths. Make list of three or four things you do well.
Figure out what you don't do well and develop hiring to fill those gaps.
Delegate to others who are gifted at those tasks.
Can't be affective alone.

Give / Generosity

Be grateful for what you have.
Do not own things you.
Giving does something to one's health.
All that is not given is lost.

Initiative

Leaders make mistakes, but don't stop moving.
Their are most risks and costs to comfortable inaction.
They make lots of mistakes.
The way to succeed is to double your failure rate.
See what people are practically dying for what you have to offer.
Everyone has great ideas in the shower, but what about when you leave the shower.

Listening
Passion

Take this life and love it.
Have passion like a drowning man wants air.
Passion and few skills always outperforms a leader with great skills and no passion.
Is the first day of the week your favorite?
Lose sleep because of an idea?
Return to your first love.

Positive Attitude

Genius is 99% perspiration and 1% inspiration.
Many of life's failures are from ppl who didn't realize how close they were to success.
Your attitude is a choice.
Positivity attracts people.
Maintaining positive attitude is easier than getting a good one.
Read books and listen to positive attitude to regain it.
Achieve a daily achievable goal.

Problem Solving

Anticipate problems.
Plan for the worse.
Accept the truth.
The majority see the obstacles, the few see the objective.
Never try to fix all problems at once. Line them up.

Ability to develop relationships / related to people

Only treat people in one way, then you will only close deals with the people who respond to that way.

Accept final responsibility.

Insecure leaders limit others.

Self-discipline

Make self-discipline a lifestyle and create a plan to continue it.
Challenge your excuses.
Find the two of three things that will help your success.

Make them a part of your lifestyle.
Get rid of excuses.

Servitude

Serve out of love.
Perform small acts of kindness to others.
Walk slowly through the crowd. Meet ppl. Kind their wants and needs.

Go home and help those people.

Serve on the lowest leverl

Keep Learning

Value listen and reading time at 10x your speaking time.
Find what you did wrong and improve it.

Remain teachable

Stay you stop growing is the day it all ends. Green means growing. Mature, start to rot.
Swear off short-cuts.
Never pay twice for the same mistake.
Not making mistakes, not learning.
Read 6 to 12 books a year in your specialty.

Vision
Overall:
Focus 70% on strengths. Make list of three or four things you do well.
Figure out what you don't do well and develop hiring to fill those gaps.