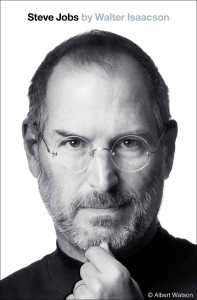 By: Walter Isaacson
Notes:
Simplicity is the ultimate sophistication.
Be blind to reality.
He fumbled into his life. A true focus may be even more efficient.
He believed he was destined for something great.
He expected the impossible of people.

If something will be better in the future, why can't we do it now? Great idea is the only thing missing.

Start speeches with a story. "Let me tell you a story."
Everything must be intuitive so that anyone in any country can automatically understand how to use something.
Have to treat education like a profession (work 11 months a year, accountability)

Not like a union job of a century ago. Therefore, break the unions.

People don't know what they want until they see it.

If henry ford asked consumers what they wanted, they'd say a faster horse.

A teamers only like working with A teamers.

Don't be afraid to fire someone, because they bring on dead weight and hurt the rest of the group.

Users should need an instruction manual.
Can't be afraid to cannibalize one's self or someone else will.