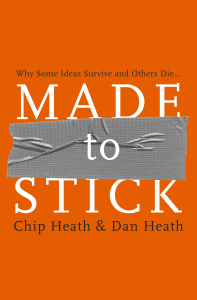 Subtitle: Why Some Ideas Survive and Others Die
By: Chip Heath & Dan Heath
Notes:
Made to stick by healthy
Six principles: SUCCES
1. Simplicity. Shorter the better
2. Unexpectedness. Counter intuitive. Use surprise. Interest.
3. Concreteness. Images. Etc. bird in hand is worth two in the bus
4. Credibility.
5. Use emotion. People r more likely to give a gift to a person versus an entire pop. Use for first choice.
6. Use stories.
Example: JFK said to put a man on the moon and return them safely.
An idea is simple when there is nothing left to substrct from it.
What's the lead?
Simple equals core plus compact.
Proverbs. Short lang from long experience. So sticky, they spread on their own.
Pot make memorable use what ppl already know. Associations. Tie to concept u already know. WikiWealth is like Wikipedia. Improves comprehension and memory.
Pot get attention. Break pattern
Uncommon actions or sense become sticky.
Big numbers are difficult to remember or grasp. Analogy works better. Prevents r easier to understand.
Curiosity arises from knowledge gaps. The more u know the more u want to know to fill the gap.
Pass around a research report that ask ppl to fill in a little section, when they r done, use the report as a slide presentation to explain the benefits of a wiki.
Ppl remember things better when it evokes emotion. Think tornadoes versus asthma.
To get donations, focus on one person versus the masses. More effective.
Invoke self interest to get ppl to care.
Dont mess with Texas was a successful campaign because it made ppl cherh the collective be edit over individual benefit.
The Jared campaign stuck a cord on the inspiration and success checklist and it was unexpected, creditable,
Telling a story is a great way to deliver a message, because I engages an audience.
Stories have to be simple.
Being a good spotter is even more important
A great speech may not be sticky. A good story or using emotion was stickier.
The curse of knowledge means ur knowledge fills in gaps that others may not have knowledge of. Good speaker explain not just share data.
Five steps! important! Sticky ideas: audience pay attention, understand and remember it, care, act on it, agree and believe.
Creat curiosity gaps that are slowly solved over the course of the communications.