Subtitle: The Fates of Human Societies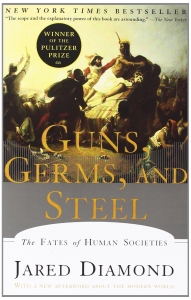 By: Jared Diamond
Notes:
The rise of civilization occurred b/c agriculture had to replace the lack of big animals to kill.
Large fruits come from humans only picking the biggest ones to domestic.
Humans evolve and innovate when the current method is unsustainable.
The world's worst diseases evolve from animals.
Technologies develop cumulative vs. in a light bulb approach.
Africa never took over Europe because it couldn't tame the large mammals on the continent. Rino riding worriers would have beat a horse any day.