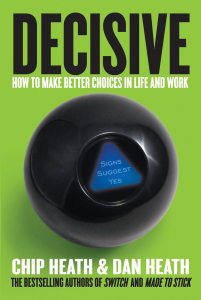 Subtitle: How To Make Better Choices In Life and Work
By: Chip Heath & Dan Heath
Notes:
Process matters more than analysis by 6x to make good decisions.
Hinting at alternative purchasing decisions is enough to greatly improve our primary purchase decision.
The best names come from considering many names at once.

Use multiple teams and have each pursue a different angle.
It's less efficient, but produces better results.

Never ask if you can do this or that. Always try for both.
Producing simultaneous designs and getting feedback at the same time helped to produce better results.

Helps the designers to feel less criticized, since they have multiple designs.
Multi-tracking keeps egos in check.

More choices make purchasing decisions harder and less profitable.
Decision paralyze happens when the number of options passes 6.
Devil's advocates are a great way to create much better decisions.

Force someone to build a case against a decision.

Instead of saying why something can't happen,

Pretend that something can happen and focus on what's needed in order to make it possible.

That way you can really see if something can happen or not.

Ask real questions of people:

If interviewing for a job, ask specifics. When did you get home each of the days last week.
Ask tough, disconfirming questions.
Ask yourself how you can fail by not asking the correct questions.

Keep a marriage diary where you only write down the positive things your spouse does.

Improved 70% of marriages for those who did it.
Fights the tendency to pick out the negatives in the person.

Assume positive intent in your people.

Helps to fight negative tendencies.

Make a deliberate mistake if it has the ability to greatly surprise on the upside.

If you lose, you can learn from it still.

Use a base rate to keep yourself tracked against something else to make better decisions.
Entrepreneurs are better at prediction, because they generally dismiss predictive data and look for facts.

Entrepreneurs favor active testing. They can't predict the future, so they test for it.

To avoid interview biases, give people short term contracts to prove themselves.
Sleep on important decisions.
Use 10,10,10:

How would you feel about your decision in ten minutes, 10 months, and 10 years?

Real example: Divorce sucks. She is super stressed. Hormones. Changed way of life.

When making tough decisions for yourself, pretend you were advising a best friend on the issue.

Ends up making a great decision.

Real example: don't get divorced (she is stressed and has a tendency to shut out people).

How to bias for action: Do first and ask for forgiveness later.
Before starting a project, have each person write down one way the project could fail.

They prepare for each of those scenarios.

Create tripwires in case you are unsure of a decision.

Spend no more than this amount on an idea or startup.
Spend no more than this long on a project.