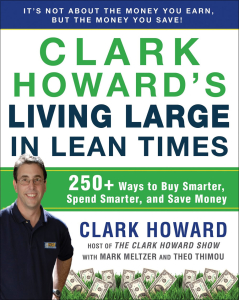 By: Clark Howard
Notes
Missingmoney.com
Raise deductible on insurance policy.
Raise home owners insurance into the thousands.
Never insure a rapidly depreciating items.
Talk to human resources person to lower withholding.
Start couponing.
Blow dry razer to make them last all year.
Never buy extended warranty.
Never lease a car. Ever.
Negotiate warranties.
Search online for TSBs online. These are non recall car issues.
Try gas price buddy .com to find the lowest gas.
Use woot.com
Use one sale a day.com
Deal a day sites.
Go 5000 before oil changes.
Get to human.com
Get human .com
Only buy I gift per person. Multi gifts is a modern day thing.
Use personal credit card for biz transactions. it has better protections.
Organic food must say 100% organic for it to be real organic.
Vitamins and herbs can cause kidney failure.
Buy vacation home in the offer season.
Sop around for movers. Start at moving.org.
Never buy home warranties.
Shop for applicants at a scratch and dent store.
Get solar panels installed on all the roofs at Shelmore!
Usaa is a great insurance company. Not low premiums.
How to get lower priced car rental rates.
Skip rental insurance during car rentals.
Best health insurance is ehealthinsurance.com.
Buy disability insurance at 60% of current pay.
Avoid single issue insurance like cancer.
Peer to peer lending can lend their money online vs going to the bank.
com. It's the Bly free credit report website.
Stay below 33% of their available credit.
If you have a big annual fee with a co, find a no fee card before replacing that card.
Use creditcardtuneup and nerdwallet.com to find the best cards for your credit score.
Make two payments a year on each credit card.
Don't buy cell phone insurance.
Post positive news and grievances on company social media websites. Best way to get attention.
Cheaper the airline, the better the service.
Never purchase trip insurance from the trip planner.
Save money on car rental by seeing if cars need to be moved from low demand places to high demand places before big travel times of the year.
Never get a new time share. Stay away from all in general.
Don't use a debt card for booking a hotel or car.