By: Amy Chua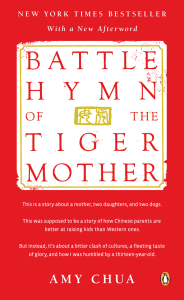 Notes:
No play dates and no plays.
Hired a Chinese nanny to speak mandarin to her daughter.
Prosperity does not last for three generations.
Look up every word you don't know and memorize it.
If something seems unfair at school. Work twice as hard to overcome it.
Try the Suzuki books to learn piano lessons. Known for producing child prodigies.

Stay next to her during all practice and lessons.

Practice one min per day for every year in their age.
Nothing is fun until you are good at it. That's why it takes practice.
Route repetition is under appreciated in America.

Practice makes things fun and that increases momentum.

Never let your kids give up on anything.

More practice will lead to more fun.

Always go extra credit all the time.
Practice more than anyone else, always.
Every stubborn kids can be gifted.
Practiced up to the last minute. Have to know that you did everything possible.
Get izzy to make clothing for ebay.
Chinese virtuous circle: Hard work leads to success and more confidence and repeat.
Every child is different, so you have to adjust.
Can only be really great at something is if you love it.
Have Izzy stay with soccer so we have a family activity.
Drilling a work effort into a young kid gives them the insight to master anything they like.
Western parents idea is to let them pursue their passion, but that passion is facebook for ten hours and junk food.
If thou love'its life, then never waste it.
Thomas Jefferson: I'm a huge believer in luck. The harder I work, the more I have of it."
Always expect the best from each kid.