Subtitle: Why Right-Brainers Will Rule the Future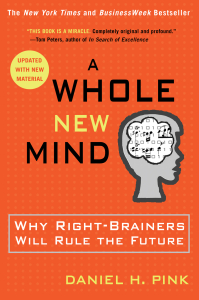 By: Daniel H. Pink
Notes:
Recommend this book to Katie Lloyd.
Right side of brain is good for emotions, patterns, non-verbal stuff.
Reading is left to right movement, so it is a left sided intensive movement.
Left hemisphere is good with serial events: reading, writing, talking.
Right hemisphere can interpret  things simultaneously.
Right to left reading uses the right brain more. It also requires a person to do right brain work.
All standard tests require left brain work, so it weeds out right brainers.
Abundance makes design and other soft skills more importance.
Intl outsourcing will hurt left brain workers, but not right brain workers.
Chess is a perfect left brain activity.
Any job that is based on rules will be hurt. Left brain rules.
Next evolution is a movement to creativity and empathy.
Japan's emphasis on left-brain activity is hurting it's economy. They are changing now.
IQ explains between 4% and 10% of success.
The most effective leaders were funny.

Humor depends on right brain activity.
There is a test for this: "Rainbow test"
Tell Goizueta about this.

Greatest demand today is synthesize. Combining different things into one. Crowd Sourcing.
Empathy will be important in the future.
Health and professional benefits of laughter and play are important.
Design:

Four elements of design: contrast (if things aren't meant to look roughly the same, then make them completely different), repetition (create continuity throughout design), alignment (all placements must have meaning), proximity (related things near each other).

Stories are easier to remember!

Because that's how knowledge and information is recorded.
Maybe will help people do better in interviews. (tell Goizueta)
Stories nearly always have an emotional impact.

All myths follow the same basic blueprint. Departure, initiation, return.
Consider taking an Masters in Fine Arts at SCAD.
Use stories to organize corporate culture.
Breakthrough ideas can come from people with no experience in the field. Lends weight to WikiWealth's use of crowd sourcing.
Boundary crossers are the future. Tend to become inventors.
The ability to forge relationships between non-related things is a right brain advantage.
Metaphors are also important to right brainers.

Human thoughts are often metaphorical.
Only the human mind can think metaphorically, not computers. Computers can's create these these of investions.

Self-made millionaires are four times more likely to be dyslexic

Dyslexics struggle with left-brain thinking.
They think differently.
They are inspired visionaries.
Forces them to see the big picture.
Pattern recognition.

Listening to symphonies increase symphonies.

Beethoven's 9th.
Mozart's 35th.
Muller's 4th in G Major
Chycossky's O' Du For…
Handle's 94th in G Major

Read 5 random magazines at a book store to encourage creativity. May get ideas that help with other creative bits of life.
Follow the link. Search in a term and follow the links to discover random new websites and information.
Use pintress to get beautiful designs.
I have very little empathy.
People who can be both emphatic and unattached will thrive. Tests:

Empathy quotient
Spot the fake smile from the BBC
Mind in the eyes test
Maybe use some of these tests at Goizueta

People can succeed at anything if they have fund doing it.
PRGs can deepen empathy.
Management's use of humor is important to promotions.
Laughter releases great feelings and can decrease stress and boost the immune system.
Laughing people are more creative and work better together.
Create a video game for recruiting efforts at Goizueta.
Companies that align goals with spiritually do better.
Pursuit of happiness is knowing what you are good at and pursuing it.
Life is like walking a labirthy where the purpose is the journey itself.
Ppl who reminisce on past successes are happier in the present.
20 10 challenge. Ask yourself is you would continue doing this if you had 20 million in the bank or 10 years to live.

If the answer is no, then make changes.

Take a Sabbath and do nothing that day.
Read: Authentic happiness and Flow.